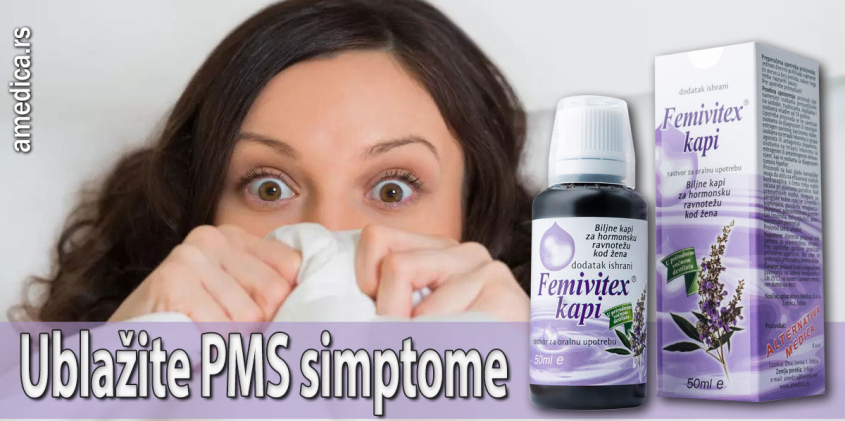 Svaka žena jednom mesečno prođe kroz simptome PMS-a, a tih simptoma ima puno. Neki od njih su: nervoza, bol u leđima, grčevi. 90% žena prođe kroz neke simptome, 20-40% ima tegobe, a 5% ima jako teške tegobe koje ih ometaju u obavljanju svakodnevnih poslova.
Zbog velikog broja simptoma nije moguće pronaći tačan uzrok, ali se ti bolovi mogu smanjiti masažama, biljnim čajevima…
AROMATERAPIJA
Ovo je jedan od najboljih načina uklanjanja bola još od vremena naših baka kada se donji deo stomaka utopljavao, jer toplota je najbolje rešenje za umanjenje bola.
U današnjici sebi možemo omogućiti pravo uživanje u ovoj terapiji i to tako što ćete napuniti kadu tople vode, dodati par kapi eteričnog ulja, lavande… zamračite vaše kupatilo, pustite omiljenu muziku, zapalite svećice i opustite se, mislite o stvarima koje vas uveseljavaju. Uz sve to, masirajte stomak.
BUDITE AKTIVNI I JEDITE ZDRAVO
Idite u šetnju, vožnju bicikla, bavite se aktivnostima na sunčevim zracima jer će vas to opustiti kao i vaše mišiće. Jedite što više voća i povrća koji sadrže kalcijum i vitamine. Mlečni proizvodi isto tako umanjuju bolove u toku PMS-a. Što manje alkohola i kafe, kao i proizvoda od belog brašna, mesa, sira, suhomesnato. Dnevno unosite najmanje 3L mineralne vode, sokove na prirodnoj bazi, čajeve.
ŠTA JE UZROK PMS-a?
Ciklus je podeljen na dva dela, tako da u prvom vlada estrogen a u drugom progesteron. Estrogen je odgovoran za oslobađanje energije i dobro raspoloženje, a progesteron je zadužen za smiruje njihovo lučenje u mozgu.
Ovi hormoni su povezani sa simptomima ali nisu uzrok. Smatra se da dolazi do uzroka pms-a kada nešto ometa delovanje ovih hormona, isto tako se smatra da dolazi do pojačanja pms-a prilikom manjka serotonina. Ali isto tako uzrok može biti nedostatak endrofina koji je odgovoran za prirodno raspoloženje, kao i nepravilan metabolizam vitamina B6, glukoze, manjak magnezijuma, cinka, vaginalne infekcije.
Prirodne biljne kapi Femivitex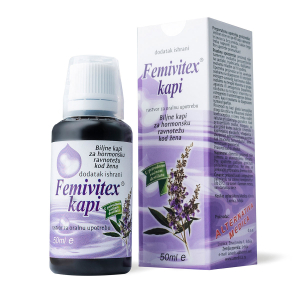 Prirodne biljne kapi Femivitex predstavljaju 100% prirodni, prirodni proizvod na bazi ekstrakta ploda konopljike (AGNI-CASTI FRUCTUS), sa prirodnim voćnim destilatom. Kliničkim ispitivanjima, je dokazano da biljni sastojci ploda konopljike u Femivitex kapima, smanjuju ili otklanjaju tegobe usled menstrualnih poremećaja kao što su:
– STERILITET (sterilitet prouzrokovan insuficijencijom žutog tela – menstrualni poremećaj ovulacije)
– CISTE NA JAJNICIMA
– MIOMI NA MATERICI
– BOLNE I NEREDOVNE MENSTRUACIJE
– PREDMENSTRUALNI SINDROM (PMS, BOL I NADUSTOST GRUDI I GLAVOBOLJE)
– ENDOMETRIOZE
– SINDROM POLICISTIČNIH JAJNIKA
– ACNE VULGARIS
– MENOPAUZE (ARITMIJE, VALUNZI, NESANICE…)
– FIBROCISTIČNE PROMENE U DOJKAMA
https://amedica.rs/wp-content/uploads/2022/10/Ublazite-PMS-simptome.jpg
628
1200
zdravko
https://amedica.rs/wp-content/uploads/2019/08/logo.png
zdravko
2022-10-05 09:42:24
2022-10-07 08:47:23
Ublažite PMS simptome