Šta izaziva grčeve u nogama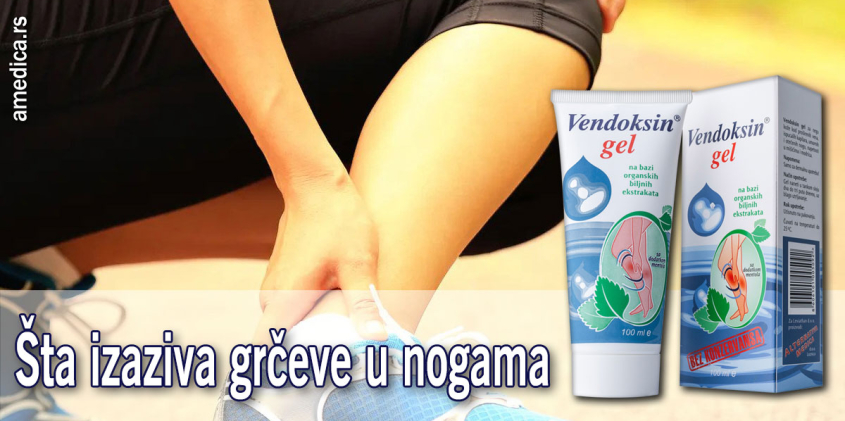 Grčeve u nogama odlikuje iznenadni bol i zatezanje mišića nogu. To su najčešće mišići listova, zadnje lože ili kvadriceps i iako grč obično traje svega nekoliko sekundi, ponekad je potrebno i više minuta da se mišići opuste. Kada se mišići opuste tada i bol od grča obično splasne.
Šta izaziva grčeve u nogama
Dehidracija
Naporno vežbanje
Umorni mišići
Povrede
Nedostatak minerala
Slaba cirkulacija
Prekomerna telesna težina
Nuspojave određenih lekova.
Pomoć kod grčeva u nogama
Jabukovo sirće: U čaši mlake vode pomešajte kačičicu meda i dve kašičice jabukovog sirćeta, dobro promešajte i popijte.
Primenite pritisak: Pritisnite sredinu grča pesnicom ili palcem na petnaestak sekundi. Nakon toga grč obično popušta.
Istezanje: Ponekad je jedan od najlakših načina šetnja, posebno ako je reč o grču u butini. Ukoliko je grč u listu, istežite stopalo ka gore ili pomoću ruku ili oslanjajući ga o pod.
Sedite u kadu s toplom vodom: Topla voda pomaže u opuštanju mišića i ublažavanju grčeva.
Banane i krompir: Ukoliko često patite od grčeva u nogama, to može značiti i da vam nedostaje kalijum. Najbolji izvori ovog minerala su banane i krompir pa bi bilo i više nego dobro da ih što češće konzumirate (banane svakodnevno, krompir svaki drugi do treći dan).
Biljni sastojci Vendoksin® gela pomažu otklanjanju bola, otoka, grčeva, težine i umora nogu, i trenutno poboljšavaju cirkulaciju, naročito u stanjima dugotrajnog mirovanja, sedenja, stajanja i slabe cirkulacije. Deluju protivupalno i vazoprotektivno, jačaju zid venskog krvnog suda, smanjuju osetljivost i propustljivost kapilara, sprečavaju nastajanje otoka, ubrzavaju vensku cirkulaciju, pojačavaju prokrvljenost, smanjuju crvenilo kod upaljenih vena i vitalizuju kožu.
Vendoksin® gel se preporučuje kod svih tegoba hronične venske insuficijencije: proširenih vena, pojave ispucalih kapilara, poremećaja periferne cirkulacije, prevarikoznog sindroma, postflebitičkog sindroma, površinske tromboze, flebitisa, tromboflebitisa, burzitisa i tendovaginitisa. Efikasan je u slučaju sportskih i drugih povreda (nagnječenja, distorzije, istegnuća tetiva mišića i ligamenata zglobova i hematoma).
https://amedica.rs/wp-content/uploads/2022/06/Sta-izaziva-grceve-u-nogama.jpg
628
1200
zdravko
https://amedica.rs/wp-content/uploads/2019/08/logo.png
zdravko
2022-06-09 08:54:31
2022-06-08 09:33:31
Šta izaziva grčeve u nogama