Najčešći simptomi u toku postmenopauze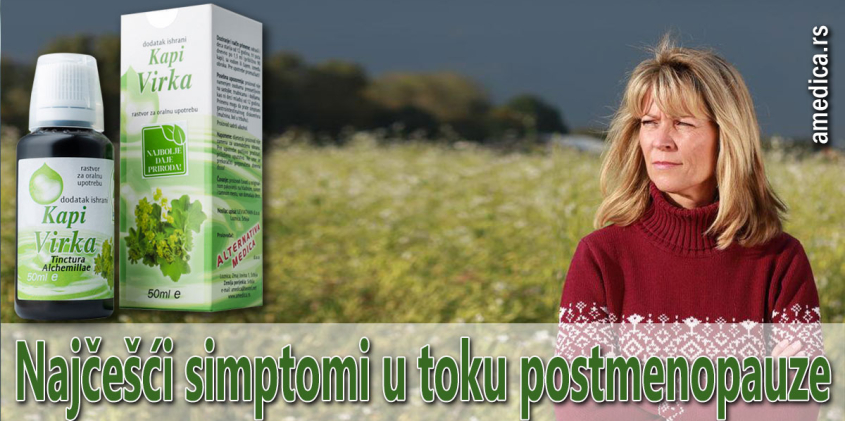 Menopauza se javlja u tri faze i to: perimenopauza (period kada počinju prvi simptomi, ali menstracija još uvek traje), menopauza (javlja se posle pedesete godine i to obično godinu dana nakon "gubitka" menstruacije) i postmenopauza (javlja se nakon menopauze i njeni simptomi mogu trajati od pet do deset godina).
Najčešći simptomi u toku postmenopauze
Pojava osteroporoze.  U ovom periodu postoji povećana mogućnost slabljenja kostiju što može dovesti do čestih lomova. Kako biste preventivno delovali na ovaj problem uzimajte velike količine kalcijuma i vitamina D. Dobri izvori kalcijuma su jogurt, mleko, sok od narandže i dodaci ishrani u obliku tableta. Vežbe sa tegovima takođe mogu ojačati kosti.
Vaginalna suvoća. Ovo može predstavljati bolan i neugodan problem, posebno prilikom intimnog odnosa i izazvati krvarenje. Koristite lubrikante kako biste ga ublažili. Namirnice od soje te biljka cimifuga mogu ublažiti ovu neugodnost.
Dobijanje na težini. Estrogen ima veliku ulogu u kontroli metabolizma, a samim tim sprečava i prekomerno debljanje. Međutim, kako njegova funkcija opada, tako se kilogrami počinju "lepiti". Zbog toga je važno da se pravilno hranite. Pojačajte unos žitarica, voća, povrća i namirnica bogatih vlaknima. Takođe, odlično bi bilo da krenete na aerobik, u teretanu ili čak na ples.
Povremeno gubljenje pamćenja. I muškarci i žene u toku života dožive "rupe" u pamćenju. Međutim, u postmenopauzi to se dešava mnogo češće. Izbegavajte hranu bogatu ugljenim hidratima. Redovno vežbajte. Trideset minuta vežbanja dnevno će poboljšati pamćenje i koncentraciju. Takođe, veoma je važno da "vežbate" i mozak. Čitanjem knjiga, učenjem novih veština ili sviranjem muzičkih instrumenata ćete stimulisati centar za pamćenje u mozgu.
Vrkuta (Alchemilla vulgaris) ima izvrstan učinak na regulaciju hormona, posebno progesterona, čime reguliše menstrualni ciklus, pomaže u ublažavanju simptoma PMS-a i menopauze. Pomaže u kontrolisanju obilnih i bolnih menstrualnih krvarenja. Njeno umirujuće i protivupalno delovanje korisno je kod endometrioze i upalne bolesti karlice. Pozitivno deluje na policistične jajnike.
https://amedica.rs/wp-content/uploads/2022/07/Najcesci-simptomi-u-toku-postmenopauze.jpg
628
1200
zdravko
https://amedica.rs/wp-content/uploads/2019/08/logo.png
zdravko
2022-07-15 09:46:22
2022-07-03 18:54:47
Najčešći simptomi u toku postmenopauze