Kako se osloboditi nesanice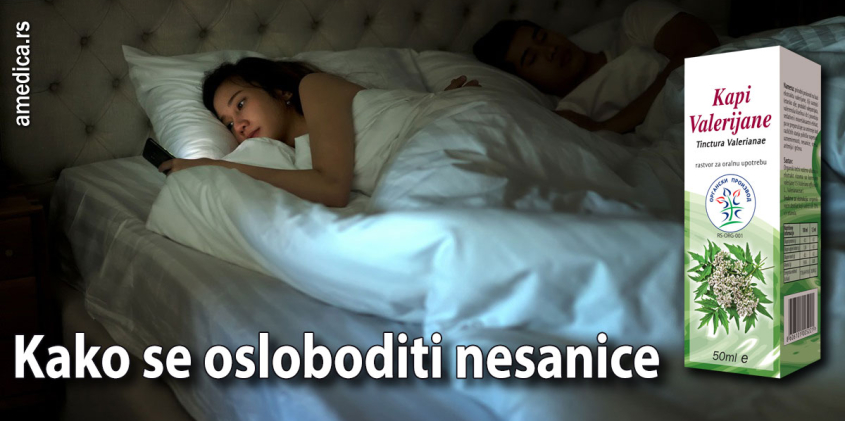 Nesanica danas muči sve veći broj osoba i može u velikoj meri uticati na kvalitet života. Smatra se da se jedna od tri odrasle osobe tokom života povremeno bori sa nesanicom. Ne zaboravite da su ljudi kojima nesanica stvara problem najčešće neraspoloženi, umorni i bezvoljni što je sasvim i normalno, jer da bi se čovek osećao produktivnim potrebno mu je dovoljno sati sna.
Kako se osloboditi nesanice
Lezite (do ponoći, eventualno do 00:30) i ustanite (6:30 do 7h, ako imate obaveze, ako nemate važnijih obaveza tokom prepodneva, ustanite najkasnije do 9h) svakog dana u isto vreme. Spavajte tokom noći između 7 i 8 sati. Popodnevnu dremku limitiraajte max do 1h.
Praktikujte svako veče neki ritual (čitanje knjiga, slušanje opuštajuće muzike, gledanje nekog ne opterećujućeg sadržaja na TV-u,…) koji će vas uvesti u san.
Radite vežbe relaksacije svakodnevno, posebno u večenjim satima. To će Vam pomoći da budete opušteni, a to je jedan od glavnih uslova da biste mogli brzo da utonete u san. Takođe, bavite se sportom (3 puta sedmično). Koji Vama najviše prija, razume se u umerenoj količini.
Pred spavanje popijte šolju toplog čaja od kamilice. Ali ne više od toga.
Sve opterećujuće razgovore, trudite se da završitite do najkasnije 20h.
Sa druge stane posle 18h, ne uzimajte kafu, jače čajeve, energetska pića (posebno ne njih),… Oni Vas mogu rasaniti i posle će Vam trebati punooo vremena da se uspavate.
Nikako ne uzimajte lekove za smirenje, ili za spavanje, kako bi se što pre uspavali, bez odobrenja doktora.
Ako legnete i ne možete da zaspite narednih 30 min., ustanite i čitajte nešto, gledajte TV- svakako nešto što nije uznemirujuće, slušajte muziku,…, sve do trenutka dok Vam se neprispava, tek onda nazad u krevet.
Krevet treba da služi samo za spavanje i za seks.
Ne uznemiravajte sebe očekivanjem da morate da što pre zaspite ili da ne sme da se desi imate ne prospavanu noć. Loše prospavana (ili pak ne prospavana noć) je neprijatno iskustvo, ali nije ni smak sveta. Ovakva očekivanja uvešće Vas samo u intenzivnu anksioznost, a poznato je da je anksioznost jedan od najvećih neprijatelja dobrog sna.
Kapi Valerijane
Kapi Valerijane predstavljaju 100% prirodni, organski proizvod na bazi ekstrakta organskog korena valerijane (Valerianae radix), organskim voćnim destilatom.
Valerijan biljne kapi  sadrže iridoidne monoterpene – valepotrijate do 2%, etarsko ulje do 1%, alkaloide, seskviterpenske ketone i kiseline, tanine i skrob. Delovanje aktivnih supstanci provereno deluju umirujuće, kod napetosti i nervoze i kod težih oblika nesanice.
https://amedica.rs/wp-content/uploads/2021/06/Kako-se-osloboditi-nesanice.jpg
628
1200
zdravko
https://amedica.rs/wp-content/uploads/2019/08/logo.png
zdravko
2021-06-22 09:57:26
2021-06-20 13:10:40
Kako se osloboditi nesanice