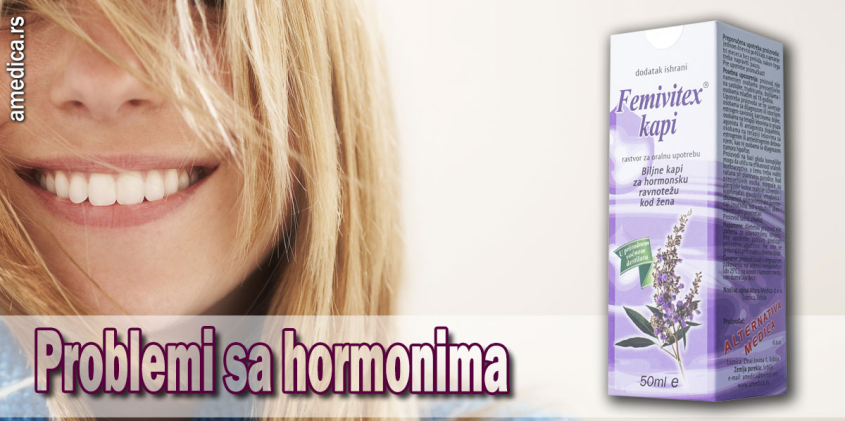 Problemi sa hormonima sasvim su uobičajeni. Iako je starosna dob jedan od uzroka ovih promena, menstrualni ciklus, problemi sa štitnom žlezdom i dijabetes, takođe, mogu biti uzroci. Isto tako, lekovi, poput kontracepcionih pilula, mogu uticati na hemiju vašeg tela. Ne treba zaboraviti ni to da tokom trudnoće veoma često dolazi do hormonske neravnoteže.
Problemi sa hormonima
Pored menopauze, način života, lekovi i trudnoća, takođe, mogu poremetiti nivo hormona u organizmu i to u bilo kojoj životnoj dobi. Veoma je važno da svaka žena zna razloge hormonske neravnoteže i kako se određeni simptomi mogu ublažiti.
Najčešći simptomi hormonske neravnoteže kod žena su neredovna menstruacija ili neredovno, obilno krvarenje. Ekstremne promene raspoloženja tokom određenog vremena u roku od mesec dana još su jedan od znakova promene nivoa hormona, što može obuhvatati predmenstrualni sindrom ili predmenstrualni disforični poremećaj.
Pored toga, anksioznost, gubitak apetita, nesanica i nedostatak koncentracije mogu, takođe, biti simptomi hormonske neravnoteže – zajedno sa simptomima poput naglog debljanja, smanjenog seksualnog nagona i noćnog znojenja.
Prirodne biljne kapi Femivitex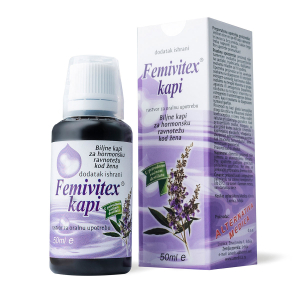 Prirodne biljne kapi Femivitex predstavljaju 100% prirodni, prirodni proizvod na bazi ekstrakta ploda konopljike (AGNI-CASTI FRUCTUS), sa prirodnim voćnim destilatom. Kliničkim ispitivanjima, je dokazano da biljni sastojci ploda konopljike u Femivitex kapima, smanjuju ili otklanjaju tegobe usled menstrualnih poremećaja kao što su:
– STERILITET (sterilitet prouzrokovan insuficijencijom žutog tela – menstrualni poremećaj ovulacije)
– CISTE NA JAJNICIMA
– MIOMI NA MATERICI
– BOLNE I NEREDOVNE MENSTRUACIJE
– PREDMENSTRUALNI SINDROM (PMS, BOL I NADUSTOST GRUDI I GLAVOBOLJE)
– ENDOMETRIOZE
– SINDROM POLICISTIČNIH JAJNIKA
– ACNE VULGARIS
– MENOPAUZE (ARITMIJE, VALUNZI, NESANICE…)
– FIBROCISTIČNE PROMENE U DOJKAMA
https://amedica.rs/wp-content/uploads/2022/05/Problemi-sa-hormonima.jpg
628
1200
zdravko
https://amedica.rs/wp-content/uploads/2019/08/logo.png
zdravko
2022-05-18 09:09:43
2022-05-17 09:43:46
Problemi sa hormonima