Povećajte šanse za začeće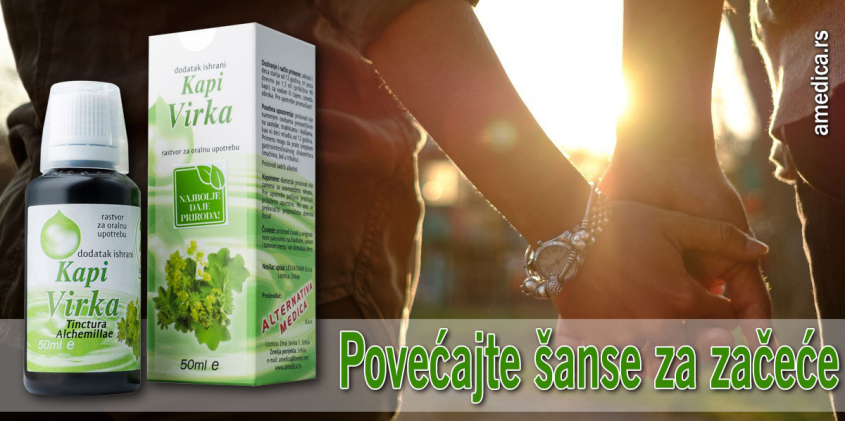 Neke žene ostanu u drugom stanju bez većih problema, kod drugih, to može trajati mesecima, čak i godinama. Zašto je to tako? Stručnjaci priznaju da je to prilična misterija. Ipak, slažu se da sve zavisi od žene do žene, ali i da je potrebno napraviti male promene u stilu života kako bi se šanse za začeće povećale.
Povećajte šanse za začeće
Oboljenja desni mogu uticati na začeće. Naime, istraživanja pokazuju da se taj period može produžiti i do dva meseca. Redovno posećujte stomatologa i obavezno održavajte zdravlje zuba i desni na optimalnom nivou.
Vežbajte, ali umereno
Mršave žene koje vežbaju pet i više sati nedeljno imaju i do 40% manje šanse da zatrudne u odnosu na žene koje ne vežbaju tako energično.
Gledanje TV-a
Naravno, u celoj ovoj priči bitan je i vaš partner. Istraživanja pokazuju da muškarci koji gledaju televizijski program preko dvadeset sati nedeljno imaju i do 45% manju količinu spermatozoida u odnosu na muškarce koji ređe prate televizijski program.
Stres
Veoma teško ga je izbeći, ali kada je nivo stresa previsok tada prestajete da ovulirate.
Izbegavajte gluten
Nedavna istraživanja pokazuju da oko 6% žena sa neobjašnjivom neplodnošću ima celijačnu bolest. One proizvode antitela koja mogu ometati razvoj posteljice. Nakon što su bile podvrgnute ishrani bez glutena, oko 95% ispitanica ostalo je u drugom stanju u roku od godinu dana.
Telesna težina
Kod gojaznih muškaraca veće su šanse da imaju manje količine sperme. Istraživanja pokazuju i da se spermatozoidi sporije kreću kod gojaznih muškaraca.
Pušenje
Pušenje dovodi do nižeg kvaliteta sperme pa je i to jedan od razloga zbog kojih se preporučuje eliminisanje ove navike, posebno kada pokušavate da začnete.
Mobilni telefon
Muškarci koji mobilni telefon "drže" na kaišu ili u džepovima pantalona imaju manju količinu spermatozoida, najverovatnije zbog emitovanja elektromagnetnih talasa mobilnog telefona.
Virak kapi koriste se kod:
– mioma, kao jedan od načina lečenja mioma biljem
– cisti
– endometrioze
– produžene menstruacije
– bolnih menstruacija
– upale jajnika
– amenoreje
– neplodnosti
https://amedica.rs/wp-content/uploads/2022/07/Povecajte-sanse-za-zacece.jpg
628
1200
zdravko
https://amedica.rs/wp-content/uploads/2019/08/logo.png
zdravko
2022-08-02 09:31:59
2022-07-28 17:45:15
Povećajte šanse za začeće