Kamen u bubregu – lečenje
Kamen u bubregu se stvara iz otpadnih materija i soli koji se nalaze u mokraći. Što je manje mokraće, to je u njoj više otpadnih materija i soli. U našim krajevima je kamen u bubregu dosta česta pojava…
Kamen u bubregu uglavnom nastaje u jednom bubregu. Isto tako, najčešće se javlja jedan kamenac, dok su retki slučajevi kad istovremeno u bubregu postoji nekoliko kamenaca.
Bolest pogađa najviše muškarce u dobu od 25 do 45 godina. Kod dece i ljudi u dobu iznad 45 godina kamen u bubreg nastaje uglavnom u bešici. Toj su bolesti skloni ljudi koji se pri radu mnogo znoje i gube mnogo tečnosti, zatim oni koji veoma malo mokre – a malo mokre jer ne uzimaju veće količine tečnosti.
Glavni znak bolesti je jaka bol u predelu bubrega, koja se širi uzduž odvodne mokraćne cevi do prepone. Uz bol oseća se mučnina i povraćanje. Bol nastupa u vidu napada koji postupno popušta pa se opet ponavlja. To su tzv. bubrežne kolike. Nastaju iznenada, a izazivaju ih vožnja po neravnom putu, kad čovek skače ili trči i sl.
Do tada je kamen mirovao u svom ležištu; međutim, spoljnim uticajem pokreće se i zatvara oticanje mokraće.
Jakim stezanjem karlice ili mokraćovoda organizam pokušava istisnuti kamen, a to uzrokuje žestoke bolove. Posle svakog napada pri kraju mokrenja primećuje se nešto malo krvi, a ponekad je sva mokraća blago krvava. Krv dolazi otuda što je kamenac oštetio odvodni kanal.
Kamen u bubregu – lečenje
Hranu pripremati sa što manje soli, čorbastu, jako raskuvanu i jesti mlaku. Ne piti svežu vodu. Vodu najprije prokuvati i ohladiti, i tek onda piti. Isto tako, zabranjeno je piti mineralne vode, jesti masniju hranu i konzervirane prerađevine.
Čajna mešavina protiv kamena u bubregu
– 60 g listova breze
– 60 g pirevine (podzemni deo)
– 40 g stabljike preslice
– 40 g samlevenog ploda šipka
– 20 g stabljike timijana
Zodeks čaj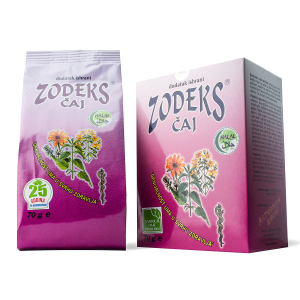 Zodeks čaj je namenjen održavanju fiziološke funkcije i unapređenju zdravlja organa urinarnog sistema. Preporučenim načinom upotrebe ovog čaja, pomažemo ispiranje mokraćnih puteva kod bakterijskih infekcija i upalnih procesa, kao i izbacivanje peska i kamena iz bubrega i ostalih mokraćnih organa.
Zodeks čaj se može preventivno koristiti da spreči pojavu peska u bubrezima. Posebno se preporučuje osobama sklonim čestim infekcijama mokraćnih puteva, kao i onima sa povećanim rizikom od razvoja bubrežnog kamenca.
https://amedica.rs/wp-content/uploads/2022/11/Kamen-u-bubregu-lecenje.jpg
628
1200
zdravko
https://amedica.rs/wp-content/uploads/2019/08/logo.png
zdravko
2022-11-14 10:10:35
2022-11-12 10:43:00
Kamen u bubregu – lečenje