Prva godina menopauze je najgora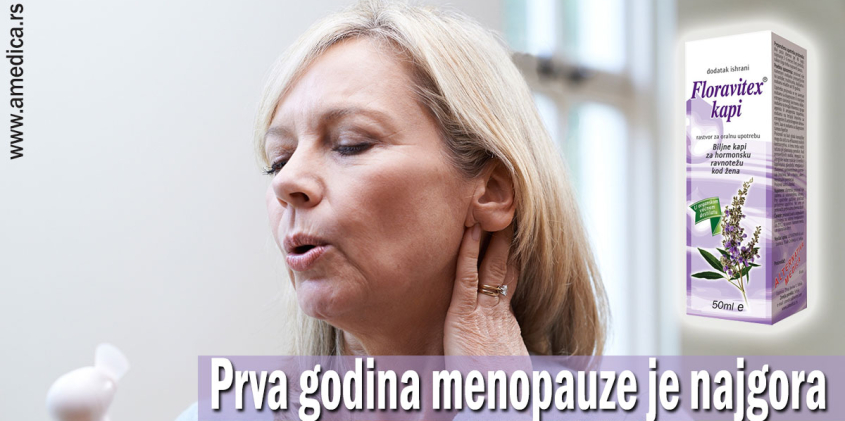 Kada počinje menopauza?
Sam tranzicioni period, odnosno perimenopauza, različit je za svaku ženu; naučnici još uvek pokušavaju da identifikuju sve moguće faktore koji pokreću i utiču na taj proces pripreme za menopauzu. Što se same menopauze ili klimaksa tiče, prosečno životno doba kada žene ulaze u tu fazu je 51 godina starosti.Međutim, ne postoji nikakav način da se predvidi kada će neka žena iskusiti menopazu ili početi da oseća prve simptome koji upućuju na klimaks. Uzrast u kojem je žena prvi put dobila menstruaciju takođe može da utiče i na to kada će one potpuno prestati.
Prva godina menopauze je najgora, a njeni neprijatni simptomi obično se javljaju i do dve godine pre ulaska u klimaks, u tzv. perimenopauzi. Ali osim fizičkih simptoma poput glavobolje, suve kože i opadanja kose, hormonske promene direktno deluju i na pamćenje žene. Istraživanje univerziteta Ilinois i Nortvestern sprovedeno na ženama u dobu od 44. do 62. godine ukazuje i na niz drugih pokazatelja.
Intenzitet valunga snažan je znak koliko menopauza utiče na pamćenje, pa tako žene koje imaju česte i jake valunge imaju najgore rezultate na testovima memorije, piše Daily Mail. U proseku, žena za vreme menopauze iskusi oko 35 valunga u nedelju dana, ali su posledice na pamćenje kratkotrajne i prolaze s menopauzom.
– Nemaju sve žene jednake simptome menopauze, pa dok je jednima ona strašno iskustvo, druge je gotovo i ne osete, a sve to zavisi od osetljivosti organizma na nivoe hormona estrogena i progesterona – objašnjava ginekolog Džon Stad.
Menopauza je prirodna biološka promena u životu svake žene, no često je propraćena mnogobrojnim telesnim i psihičkim promenama. Talasi vrućine ili valunzi, iznenadno lupanje srca, glavobolja, teskoba, iscrpljenost, promene raspoloženja, nesanica i noćna znojenja samo su neke od najčešćih menopuzalnih tegoba.
Poslednjih nekoliko godina zanemarena je briga za kvalitet života žena u menopauzi, nedovoljno se o tome priča, a istovremeno je zabeležen porast korišćenja antidepresiva. Najbolja alternativa za uklanjanje ili ublažavanje tegoba i posledica menopauze ipak je upotreba biljnih preparata. Upravo biljne kapi Floravitex mogu da smanje sve tegobe koje prati menopauza i da znatno utiču na kvalitet žene u tom životnom dobu. S obzirom da je menopauza stanje vezano za hormone, Floravitex kapi mogu biti korisni za zdrav hormonski i emotivni život žene.
https://amedica.rs/wp-content/uploads/2019/05/Prva-godina-menopauze-je-najgora.jpg
628
1200
zdravko
https://amedica.rs/wp-content/uploads/2019/08/logo.png
zdravko
2019-05-21 09:36:33
2019-05-21 09:36:33
Prva godina menopauze je najgora