Kako hrana utiče na hemoroide
Hemoroidi predstavljaju proširene vene koje nastaju najčešće usled učestalog naprezanja. Stomačni problemi kao i problemi sa stolicom su u uskoj vezi sa hranom koju jedete.
Mnoge namirnice utiču na to da dolazi do naprezanja i težeg pražnjenja organizma, a to može samo da pospeši pojavu hemoroida. Zato morate obratiti pažnju na to šta jedete.
Ukoliko imate određene simptome ili ste sigurni da imate hemoroide, onda je pravilna ishrana nešto čemu morate posvetiti posebnu pažnju.
Ako želite da delujete preventivno i da smanjite rizik od pojave šuljeva, možda bi trebalo da odmah pređete na određeni plan ishrane za hemoroide.
Odabir pravih namirnica u borbi protiv šuljeva će učiniti da nestane upala, bol, iritacija, svrab, krvarenje i svi oni neprijatni simptomi koje ova bolest nosi sa sobom.
Loša ishrana i sedenje će uticati na oticanje vena u rektumu, pojavu niza komplikacija, problema sa stolicom i naprezanja, i na kraju na nastanak hemoroida.
Ne kažemo da treba da se odreknete svog načina života, ali neke modifikacije su neophodne ako želite da izbegnete mnoge tegobe, a ne samo hemoroide.
Ono od čega prvo treba da krenete je ishrana, koja ne mora da zahteva neka velika odricanja. Dovoljno je obratiti pažnju na to šta jedete, i šta je potrebno izbaciti iz ishrane ako želite da sprečite nastanak hemoroida.
Preporučena ishrana kod hemoroida podrazumeva unos namirnica koje su bogate vlaknima. Takve namirnice mogu da pomognu u ublažavanju simptoma.
Unosom hrane koja je bogata vlaknima će se omogućiti čišćenje digestivnog trakta, i smanjiti količina nepoželjnih sastojaka u organizmu. To će dovesti do normalnog obavljanja nužde bez velikog naprezanja i tegoba koje hemoroidi nose sa sobom.
Jabuke, šljive, kruške, kajisije i smokve spadaju u grupu voća sa velikom količinom vlakana. Ukoliko želite da rešite problem hemoroida, u svoj dnevni unos treba da ubacite ove voćke. Vlakna ublažavaju sve simptome, kao što je svrab, peckanje i krvarenje hemoroida.
Vendoksin kapi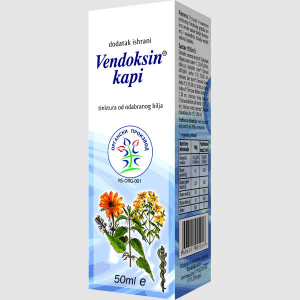 Vendoksin kapi se primenjuju kod problema proširenih vena, kao pomoć za ublažavanje ili otklanjanje tegoba kod hronične venske insuficijencije prouzrokovane trombozom venskih sudova (tromboflebitis, varikoflebitis, flebotromboze), venske hipertenzije donjih ekstremiteta praćene otokom, bolom i promenama na koži (pigmentacija i zadebljanje), proširenja vena drugih regija tela – hemoroida.
https://amedica.rs/wp-content/uploads/2021/11/Kako-hrana-utice-na-hemoroide.jpg
628
1200
zdravko
https://amedica.rs/wp-content/uploads/2019/08/logo.png
zdravko
2021-11-30 09:40:11
2021-11-29 13:55:04
Kako hrana utiče na hemoroide