Dijabetes 2 napada sve organe 
Dijabetes tipa 2 ako se ne leči može ozbiljno da naruši zdravlje i izazove mnogobrojne komplikacije – bolesti srca, oštećenje nerava, demenciju…
Redovnom kontrolom šećera u krvi, ljudi sa dijabetesom mogu smanjiti rizik od tih komplikacija. Loše kontrolisan šećer u krvi može prouzrokovati dugoročne probleme jer se tada oštećuje vid, srce, arterije, bubrezi i nervni završeci. Posledice loše kontrolisanog šećera u krvi vremenom se javljaju u vidu slepila, ulceroznog stopala, infarkta, šloga, angine pektoris, povišenog krvnog pritiska, otkazivanja bubrega, dijabetične neuropatije, a takođe se kod muškaraca može javiti i impotencija.
Dijabetes 2 napada sve organe
Problemi sa srcem i arterijama
Ako lečenje dijabetesa ne obuhvata zdravu ishranu i vežbanje, veća je verovatnoća da ćete dobiti plak u arterijama nego ljudi koji koji nemaju šećer. Ova lepljiva supstanca usporava protok krvi i povećava rizik od ugrušaka. To dovodi do otvrdnjavanja arterija (ateroskleroza), zbog čega je veća verovatnoća da ćete dobiti srčani ili moždani udar. Otprilike dve od tri osobe sa dijabetesom umiru od srčanih bolesti.
Komplikacije sa bubrezima
Što duže imate dijabetes, veća je šansa da ćete dobiti hroničnu bolest bubrega. Dijabetes je vodeći uzrok otkazivanja bubrega. Kontrola šećera u krvi, krvnog pritiska i holesterola može smanjiti rizik od ove komplikacije. Godišnji testovi i lekovi mogu usporiti bolest i održati bubrege zdravima.
Problemi sa očima
Visok šećer u krvi može oštetiti sitne krvne sudove koji dovode kiseonik i hranljive sastojke u mrežnjaču oka. Ovo je poznato kao dijabetička retinopatija i može dovesti do gubitka vida. To je vodeći uzrok novih slučajeva slepila kod ljudi između 20 i 74 godine.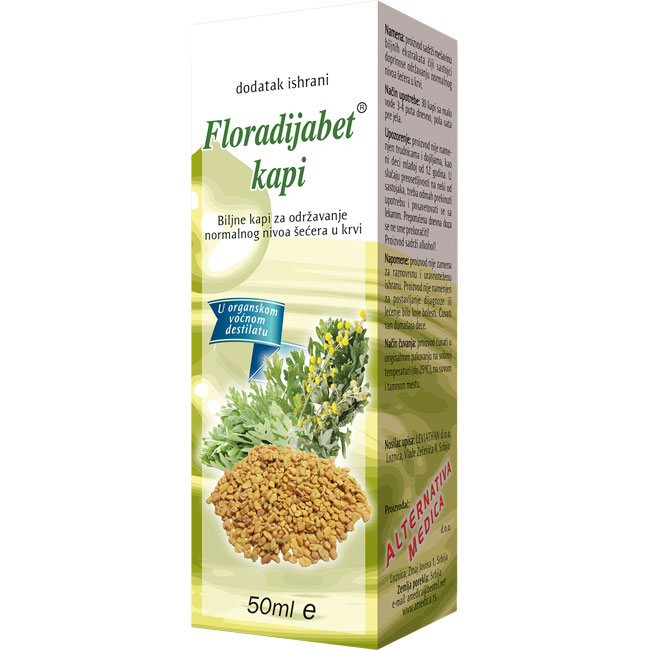 Floradijabet® biljne kapi za dijabetes i regulaciju šećera su prirodno rešenje za kontrolu visokog šećera u krvi kod dijabetičara i osoba koje su na granici, kojima se često javlja visok nivo šećera u krvi.
Floradijabet® biljne kapi za dijabetes i regulaciju šećera u krvi pomažu svima koji imaju povišen šećer da lakše kontrolišu njegov nivo i da smanje upotrebu lekova, kao i da umanje nagle skokove šećera usled stresa ili obilne ishrane.
https://amedica.rs/wp-content/uploads/2021/02/Dijabetes-2-napada-sve-organe-.jpg
628
1200
zdravko
https://amedica.rs/wp-content/uploads/2019/08/logo.png
zdravko
2021-02-02 10:13:24
2021-02-02 10:13:24
Dijabetes 2 napada sve organe