Biljke za jačanje imuniteta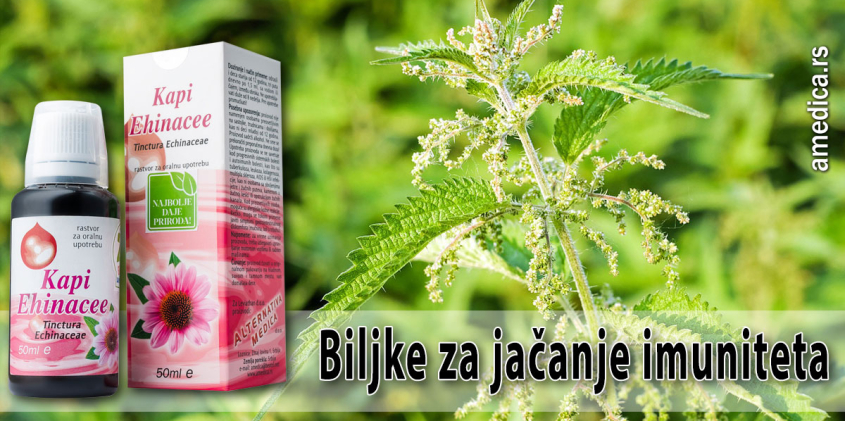 Prilikom epidemije gripa ili drugih virusa, potrebno je imati jak imunitet, da bi se pregurala bolest. Raznovrsna ishrana i zdrav život su osnova za jak imunitet. Neke biljke nam u tome mogu pomoći.
Kopriva
Ono što je dobro za jačanje imuniteta kod koprive je to što ona čisti organizam i podiže energiju. Pospešuje izlučivanje mokraće. Poboljšava krvnu sliku, a naročito gvožđe. List koprive sadrži oraganske kiseline i to mravlju, oksalnu i silicijumovu, zatim sadrži flavonoide, tanine, karotenoide, kumarine, kao i slobodne amine.
Vranilova trava (divlji origano)
Vranilova trava sadrži aktivne sastojke koji deluju protiv kašlja i bronhitisa, ali i kod urinarnih infekcija i bolesti organa za varenje. Ima antimikrobna svojstva i jača imuni sistem. Sadrži etarska ulja, gde se posebno ističu sastojci timol i karvakol. Poznata je kao vranilovka ili divlji origano.
Rastavić
Rastavić ili poljska preslica čisti organizam i dobar je diuretik. U narodnoj medicini koristi se kod plućnih bolesti i urinarnih infekcija. Rastavić sadrži silicijumovu kiselinu i flavonoide.
Čaj za jačanje imuniteta
Čaj se pravi kao mešavina pomenutih biljaka (list koprive, herba vranilove trave i herba rastavića). Može da se uzima preventivno i piju ga ljudi koji su skloni infekcijama disajnih organa, mokraćnih puteva i upalama sluzokože. Ima antimikrobno dejstvo.
Priprema
4 supene kašike ove mešavine preliti sa 1 l ključale vode. Poklopiti šerpu i ostaviti 30 minuta. Procediti i piti ceo dan. Čaj može da se pije do 3 meseca, a onda se pravi pauza od mesec dana.
EHINACEA KAPI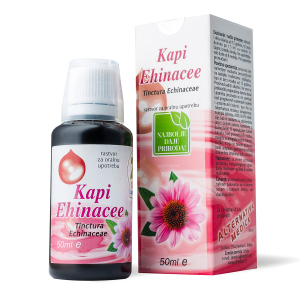 ORGANSKE BILJNE KAPI ZA JAK I SNAŽAN IMUNITET POMAŽU KOD:
OPŠTEG JAČANJA IMUNITETA
BAKTERIJSKIH, GLJIVIČNIH I VIRUSNIH INFEKCIJA
HPV VIRUSA
SINUZITISA I DRUGIH HRONIČNIH UPALA DISAJNIH ORGANA
UZNEMIRENOSTI I NAPETOSTI
https://amedica.rs/wp-content/uploads/2023/08/Biljke-za-jacanje-imuniteta.jpg
628
1200
zdravko
https://amedica.rs/wp-content/uploads/2019/08/logo.png
zdravko
2023-08-14 09:43:37
2023-08-12 12:06:15
Biljke za jačanje imuniteta